Facebook's Pixel is an important tool for managing marketing campaigns, measuring user access and behavior in your advertising campaigns.
With this feature, you can analyze the results generated by the announcements of your course, checking, for example, if they are contributing to increase visits in your page.
Another advantage that this tool offers, is the possibility of including your ads for a period of time in the Facebook feed of the user who accessed them.
Want to measure and optimize your advertising campaigns? Follow the step by step below to add Pixel (javascript) on Coursify.me:
1) Create an account on the "Google Tag Manager" website, add the javascript code and generate a container code.
2) Access the school's Home page on Coursify.me and select "Resources":

3) After that click on "Integrations":

4) At the bottom of the next screen, next to the Google Tag Manager option, select "Integrate":

5) The following screen will appear, so fill in the code of the container generated in Google Tag Manager: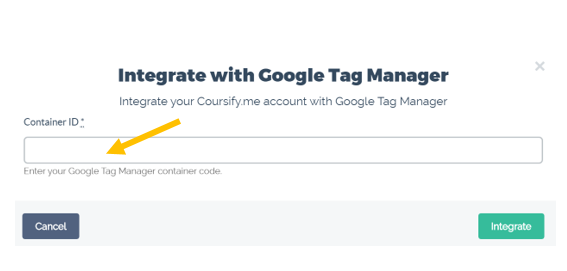 6) Click Integrate: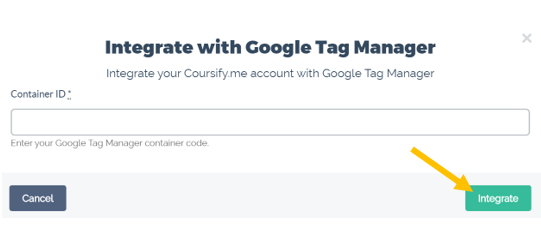 Done! The Facebook Pixel was successfully added to the school's platform.
We hope this article has been helpful for you to create your online courses on Coursify.me.
Click here to create your free account on Coursify.me.